Nov. 2015 Puppies are with their forever families.... We will miss you all. Love~
Oct 2015 Puppies were having their health check at vet's office... They are such good puppies~ All healthy and well behaved.
March 1st 2015
We found 1000 bales of Certified Organic Hay. 65% Alfalfa. We are going to all Certified Organic NOW~
Love
Feb. 2015
Rohit and Jyoti's DNA swab results are back today! They are perfectly healthy. They and their offsprings are/will be clear from all those diseases!

Very happy to learn this great news!!!
Very happy to learn this great news!!!
~Love and Peace~
Neonatal Encephalopathy - No mutations detected
Degenerative Myelopathy - No mutations detected
von Wilebrand Disease Type-1 - No mutations detected
Jan. 2015
Happy New Year!~
Rohit and Jyoti are half year old~ They love each other so much, and they run, play, sleep, eat, share, do everything together. We just submitted their gene tests, and are looking forward to getting the great results back from the lab.
Rohit is 24.5 lbs, and Jyoti is 23.5 lbs, 19.5 inches tall by their shoulders. They are little joy in the farm. Love...
November, 2014
It is a busy month for us. Oh well, we are always busy in the farm. I drove from Chicago to Cheyenne WY to meet up with Minarets Poodles, Esther, and brought back Jyoti. She is a clover girl, just learned her name on the way drove back home. She is loving and beautiful. She is a puppy has everything that I always wanted!
Miss Clover is the new UKC Champion. She competed with more than 200 dogs in 4 show rings. We are so proud of this girl. Our mentor said Clover is one of out of millions... She is well-balanced, sweet, obedience, agile, beautiful, always with the playful and loving attitudes. We LOVE you! Clover girl...
November 2014
Rohit is here!!! Flying more than a thousand miles, Rohit was brought to our farm by Cathie. Thank you for breeding such a beautiful and nice dog.
October 2014
Our beloved Pancake ate a rope toy, and he had surgeries. I was worry, and requested prays for his healing all over the internet.
I was searching for better food after Pancake's surgeries because he couldn't and wouldn't eat and drink for 2 weeks. He lost about 25 lbs. I discover Life's Abundant dog food, and that is what Pancake would eat during his recovery. I made 4 different kind of organic beef and mixed with different fruit..also tried all samples we got from our dog food distributor sent us. However, he was only willing to eat Life's Abundant brand that a friend gave me. I assumed he knew there is something in that food would help him recover. I talked to my breeder mentors and one of them is using that food on her dogs as well. The food has chicken, fish, eggs meals, vege/fruits, gluten free and brown rice, and live probiotic in it,. Out of my amazing finding, their poo doesn't smell as before. It is not smelly at all. I trust this will make your backyard more pleasant...
Sept 2014
We are adding new girls to our Nigerian herd. NC Promisedland is one of the toppest herd in the history. The herd was sold in 2012. We are introducing NC Promisedland Peppermint to our family. Peppermint just kidded 2 does and 1 buck 3 months ago. Along with Peppermint, we also will pick up her doeling Val. We are excited about they become part of our family.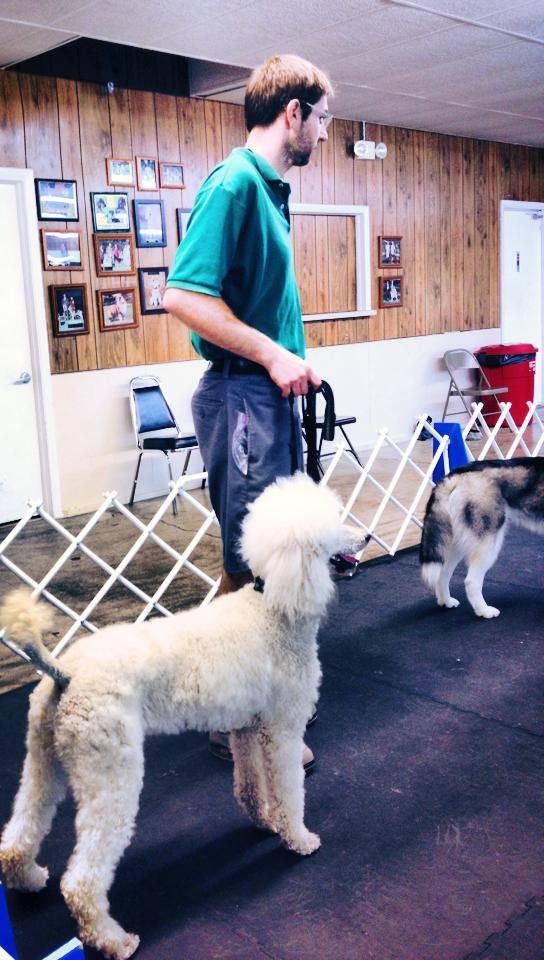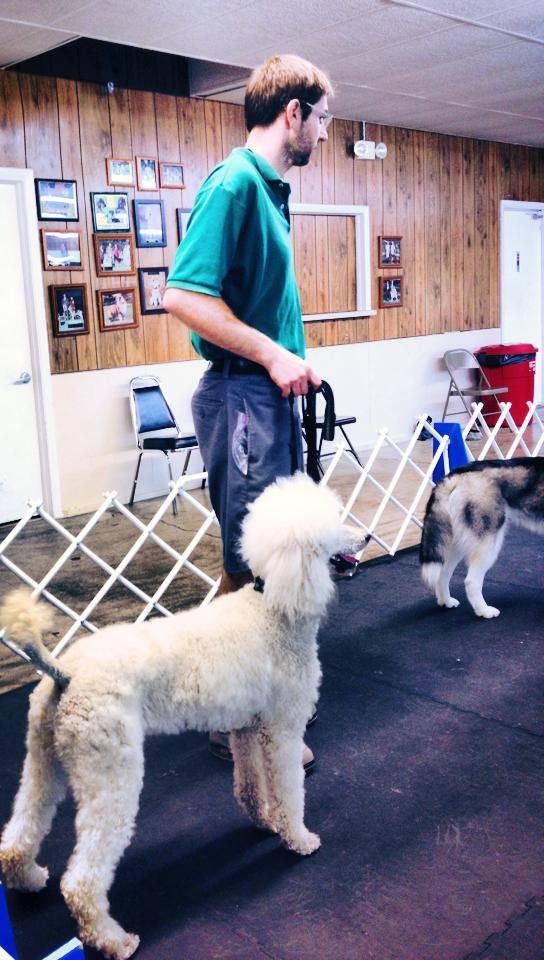 August 2014
We finally are back to our class at AKC Stone City Kennel Club after the the harsh winter and Pancake injured himself while playing in the cold snow.
Miss Clover goes first because she is still single in the moment. Miss Clover is a super good student in class. So many praises from viewers, i believe she loves that! The conclusion was Anthony needs more training than Miss Clover.
Chatting with the instructor after the runs, she thought we were taking private lessons elsewhere before we came back to the club. It was 9 months away, and she is doing amazing in class. Next week Shanti is up next week for Nose Work class.
Aug 2014
Harvest is one of my favorite time in the year. We just got some healthy and yummy veges from the garden. They are delicious and again Pure Organic! Anthony doesn't like the taste. He thinks it is bitter.
Chinese says, "The bitter the better for health!" I Love it!
After waiting for two years, our puppies were born in 7/10 and 7/12. We have our dear friends Justin Goh and his lovely wife Pauline to come to do a photo shoot for our beloved puppies. You can find more photos in the Puppies for Sale page. We had great time with our old friends back in downtown Chicago.
We miss and love our friends for sure, BUT not the city!